We believe children's dentist visits should be a simple and fun time, and we strive to create an atmosphere of mutual trust and cooperation. We respectfully ask for your help in the following areas.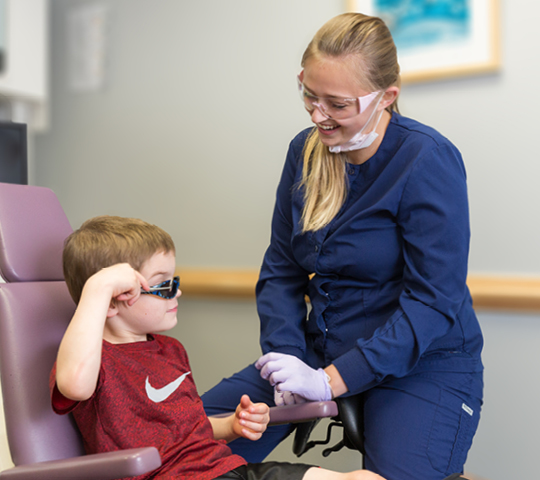 Appointments
Your scheduled appointment time has been reserved specifically for you. We kindly request 48-hours notice if you need to cancel your appointment. We are aware that unforeseen events sometimes require missing an appointment, and appreciate your cooperation.
Identification
We ask that parents and legal guardians bring in their identification. We would like to ensure that we know who is making medical decisions for minor children. A parent or legal guardian with paperwork is required at the first visit. With written permission from a parent or legal guardian, another family member or family friend may bring a patient to subsequent visits.
Insurance Policy
Please bring insurance cards to each visit so we can submit claims to your insurance company and work with them to maximize your dental benefits. We are in-network with Delta Dental, but also work with all other dental insurance carriers, including MaineCare.
If we do not have your complete information on file, we ask that you pay for that visit, and we'll be happy to provide a claim form for you to get reimbursed by your insurance company.
For certain procedures, such as dental restorations, we may be able to obtain a pre-treatment estimate of what the insurance company plans to pay.
We accept payment by cash, checks, most credit cards, and CareCredit, which offers low- or no-interest financing for those who qualify. We do not offer in-house financing and ask that all remaining balances be paid within 30 days of receiving your statement. Unpaid balances will be charged a 1.5% monthly finance charge. Balances that remain unpaid for over 90 days, as well as any applicable finance charges and fees, will be submitted to a collection agency.
If you have any questions about financing or payment, please ask us!
Discrimination Policy
Discrimination is against the law (for other languages, take a look here).
Falmouth Pediatric Dentistry complies with applicable Federal civil rights laws and does not discriminate on the basis of race, color, national origin, age, disability, or sex. Falmouth Pediatric Dentistry does not exclude people or treat them differently because of race, color, national origin, age, disability, or sex. We provide free aids and services to people with disabilities to communicate effectively with us, such as:
Qualified sign language interpreters
Written information in other formats (large print, audio, accessible electronic formats, other formats)
Provides free language services to people whose primary language is not English, such as:
Qualified interpreters
Information written in other language
If you need these services, contact Justin Litchfield, our office manager. If you believe that Falmouth Pediatric Dentistry has failed to provide these services or discriminated in another way on the basis of race, color, national origin, age, disability, or sex, you can file a grievance with:
(207) 781-2272 / Info@FalmouthPediatricDentistry.com
You can file a grievance in person or by mail, fax, or email. If you need help filing a grievance, Justin Litchfield is available to help you.
You can also file a civil rights complaint with the U.S. Department of Health and Human Services, Office for Civil Rights, electronically through the Office for Civil Rights Complaint Portal, available here, or by mail or phone at:
U.S. Department of Health & Human Services
200 Independence Avenue, SW
Room 509F, HHH Building
Washington, D.C. 20201
1-800-368-1019, (800) 537-7697 (TDD)
Complaint forms are available here.